Fort Nathan Hale History
BLACK ROCK FORT was constructed in the spring of 1776, by order of the Connecticut Colony, on a prominent basalt ledge jutting the harbor on the east side and in range of the ship channel, thus protecting the approach to the Port of New Haven.
On July 5, 1779, superior British forces landed from war ships, attacked the fort and captured its 19 defenders. The enemy was then able to march into New Haven.
At the close of the Revolution, Black Rock Fort was abandoned. When the political situation again deteriorated between Americans and British in the early 1800s, a new fortification was erected by the Federal Government, complete with masonry walls, six guns, magazine and barracks for fifty men. It was named Fort Nathan Hale for one Connecticut's most illustrious patriots. During the war of 1812, Fort Hale's cannons successfully defied a number of British raiders threatening New Haven.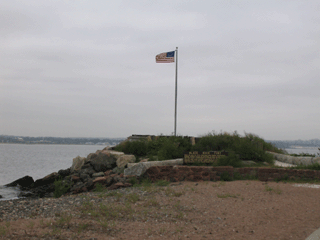 In 1863 a new Fort Hale was built to thwart Southern raiders. Adjacent to the old fort ruins, this fortification was an impressive one with earthen ramparts, five "bombproof" bunkers, moat with drawbridge and eighteen guns. However, it saw no action during the Civil War.
In 1921, by Act of Congress, the fort - long unused and outmoded - was deeded to the State which promptly handed it over to the City to maintain. The city's Park Department beautified the site, creating a popular bathing beach and picnic area. Unfortunately, water pollution and the hurricane of '38 brought such recreation to an end. Neglected, concealed by overgrowth, the fort fell into decay and obscurity.
BLACK ROCK FORT has now been brought back to life by FNHRP. Reconstructed in time for the Bicentennial, it was the scene of a colorful opening ceremony on July 5, 1976.
FORT NATHAN HALE has been reestablished with the restoration of the drawbridge, moat, ramparts, powder magazines and "bombproof" bunker.
The final goal of FNHRP is the construction of an educational facility and visitor center to demonstrate the significance of the forts, the importance of the Port of New Haven, past and present, and the value of seashore ecological studies.