Ninth Regiment Connecticut Volunteers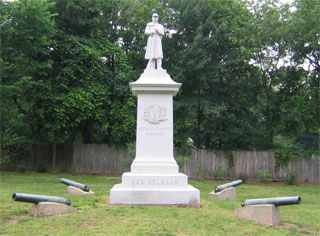 Memorial at Bayview Park, New Haven
Nestled near the northwest section of New Haven Harbor stands a memorial to those of the 9th Regiment of the Connecticut Volunteers who served and gave the ultimate sacrifice during the Civil War.
The Ninth Regiment played an important role in the Battle of Vicksburg, however, a memorial was never placed on the Battleground to honor Connecticut's contribution. Connecticut is one of only two states not having a memorial at Vicksburg to honor the sacrifices of its citizens in this important conflict.
The following information was provided to Fort Nathan Hale's Webmaster for inclusion on this WEB site:
State Monument To Honor Irish Regiment At Vicksburg
Long denied a State of Connecticut monument at the Vicksburg National Military Park, U. S. Senate legislation in the 1990s opened the door by redefining the Vicksburg campaign and allowing land to be added to the Park. This enables Connecticut to place a monument, along with 28 other current states both Union and Confederate, to honor the Ninth Regiment Connecticut Volunteers.
Known as the "Irish Regiment" because of their predominant makeup of Irish soldiers, the Ninth left New Haven in November 1861 with 845 men and lost 250 men during the war. Some 150 men died from July – October of 1862, a span which started with their one month assignment at the ill conceived "Williams Canal" opposite Vicksburg which was intended to cut a mile-long channel through a swampy loop in the Mississippi during the summer heat allowing Farragut's Union boats to bypass the guns at Vicksburg. The plan would have given control of the Mississippi to the Union and avoided the bloody battle and siege of Vicksburg one year later.
The Vicksburg National Military Park currently has over 1,300 memorials, signposts and monuments, the largest Civil War cemetery in the country and some 1 million visitors a year. In April 2005, the National Park Service formally invited the State of Connecticut to place a monument at the Park and has agreed to provide the monument footing, installation and maintenance, in perpetuity. Governor Rell replied to the Department of Interior in May of last year authorizing the committee to proceed with fund raising and a monument design. Oversight for the project is provided by the State's Adjutant Generals Office. Financial support has been received recently to provide nearly ¾ of the needed funding.
A recent committee decision has selected a design submitted by Mathieu Memorials and Granite Works of Southington, CT. They are a second generation, family owned Connecticut company who are also agents for Royal Melrose, a national corporation from Minnesota with numerous quarries and monument fabrication plants. Some of their more recent monuments include the Korean War Memorial and the Franklin Delano Roosevelt Memorial, both in Washington, D. C. and the Walk of Flags at Mount Rushmore in South Dakota.
Current plans call for a finalized design within the next few months followed by a lengthy application and review process by the National Park Service in Vicksburg, then at their regional offices in Atlanta and a final review in Washington D. C. Committee chairman, Bob Larkin, is a descendant of a private in the Ninth who died opposite Vicksburg of malaria. He hopes that the review process and monument fabrication can be done in time for a dedication at the Vicksburg National Military Park by the 3Q 2007. His son has provided a website with added detail at:
http://www.jimlarkin.com/9thRegiment/9thRegimentHome.htm